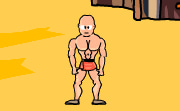 Swords and Sandals 1 is helaas niet beschikbaar op jouw platform. Alle onderstaande spelletjes zijn wel beschikbaar, dus kies er een en start met spelen!
Swords and Sandals 1 is een leuk gladiatoren spel dat je kan uitproberen op deze website, in je browser. Swords and Sandals 1 is al 307,817 keer gespeeld en heeft een rating van 9.0 / 10 gekregen van 1687 mensen. eGames.com heeft dit spel gemaakt. Dit mooie actie game is ontwikkeld met Flash. Op die manier kan je het spelen in de meeste moderne browsers, zonder dat je iets moet installeren! Vond je het leuk om Swords and Sandals 1 te spelen? Dan moet je ook eens een kijkje nemen naar onze andere
gladiatoren spelletjes
en games zoals
Swords and Sandals: Champion Sprint
en
Siegius Arena
!
Meer spellen in deze reeks